Trails & Rivers - Review
Where:
The Falling Branch Area of Rocks State Park (Harford County)
Hike:
White Tail & Kilgore Falls
Season:
Late Summer
Recommend by:
Jane Sizemore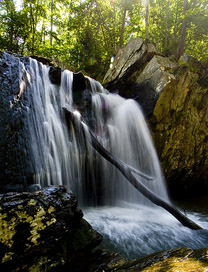 This past Sunday morning was relatively cool and my husband, our dog, and I decided to get outside and get some exercise. We just moved to Baltimore county about two years and while we've wandered around local trails, we wanted to try something new. Both my husband and I really enjoy hiking by rivers during the warmer months and Owl, our Austrian Cattle Dog, much prefers when we hike where he can get soaking wet and covered in mud (although, I should note that Rock State Park requires pets be on leash). Some of our friends had recommended Rocks State Park and Kilgore Falls, which is Maryland's section highest vertical drop waterfall. So we packed up some granola, water, and dog treats and made a morning of it.
ADVERTISEMENT
While the morning was still cool we did the White Trail, which is a 2-mile hike past the rapids of Deer Creek and up by large rock formations, which actually have historical carvings on them. One special place we pasted was the King and Queen seat, which according to the Maryland Department of Natural Resources "was a ceremonial site for Susquehannock and Mingo Indians." This trail took us about two hours and was a pretty decent workout with some climbing over rocks to stay on the trail. After finishing that hike, we did the short jaunt to Kilgore Falls. This is a real easy trail and is only .5 miles. It took us 20 minutes to get to the falls, which were pretty impressive for Maryland and, if you were my husband and Owl, great fun to climb on. I simply enjoyed their beauty while dangling my feet in the river. Overall, it was a good morning and if you want a nice, little hike and don't want to wake up in the wee hours to hike while it's still cool outdoors, I recommend seeing the waterfall.
Tips for Backpacking with your Dog
Before:
Consider where you will be hiking/camping…Will there be a lot of people around? RVs? Is it a National Park? (Dogs are not allowed). Could the environment distract or endanger your dog?
Can your dog handle the trek? Is he/she properly conditioned?
Does you dog obey basic obedience commands? Get along with people? Other dogs?
Keep in Mind:
Your dog should be up to date on vaccinations and you should bring paperwork which confirms that.
Make sure your dog has identification just in case he/she gets lost.
Product Review: Stone Lion Portable Camp Stove
Usability ***
Durability **
Lightweight ***
Cooking-Speed ***
Number of Burners: 2
Overall the Stone Lion Portable Bunsen Burner is a good choice for short overnight trips and camping. It is fairly easy to set up; plus a sticker on the inside of the lid makes it impossible for the wind to accidently dispose of the paper instructions. On a good note, Stone Lion makes a device that doesn't add much additional weight to your pack and it comes with a nice handle for external carrying. One downside, our reviewer experienced was that one of the hinges dented on a three-day camping trip when pack was dropped onto the ground. This made the burner more difficult to open.
Equipment:
Take your dog with you to the store for a fitting before purchasing a dog pack. Be sure that the dog learns to associate the pack with walking; this way they'll be exited to wear it.
If your dog has a thin coat, consider packing a dog raincoat.
The dog ought to be able to carry its own food and a water bottle.
Put things inside the pack in double-layer plastic bags (just in case your dog runs through a mud pit or crashes into a stream).
Daily Tasks:
Inspect your dog at least twice a day for sores that might be caused by the pack.
Dogs need to drink small amounts of water often; try to avoid hiking near polluted water sources because unless you are carrying water – your dog will need to drink from somewhere.
Check daily for ticks to prevent lyme disease.
First Aid:
Skunks and porcupines will end the trip early. If your dog is skunked, tote home and dip in tomato juice. If porcupined, bring the dog to the vet.
If your dog hurts or injures itself, remember he/she may act differently. Bring a muzzle just in case.
Know what dog dehydration and heat stroke look like and make sure not to overtax your dog.
For more information consider reading
A Nuts 'n' Bolts Guide: Backpacking with Your Dog
by Richard Lerner, D.V.M.